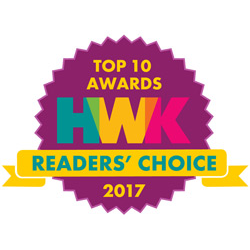 Place Winner - Best Family Resort in Australia 2013, 2014 & 2015
as voted by readers of Holidays with Kids Magazine
There's no other island quite like Daydream, on Australia's Great Barrier Reef. With a fringing reef a mere flipper's kick from the beach and a Living Reef on the island itself, it's an incredible place to not only live and learn about one of the world's greatest natural wonders, but to experience it first hand.
The free form Living Reef that courses through the resort is actually one of the world's largest outdoor aquariums, home to more than 140 species of marine fish, 82 species of coral and 15 species of invertebrates such as starfish, sea cucumbers and crabs. Step off the beach at Lovers' Cove and you'll be greeted by a kaleidoscopic, welcoming party of parrot fish, inviting you into their world and the beautiful fringing reef just beyond the shore.
Getting to Daydream Island is simple, with the Whitsunday Islands serviced by flights to the Great Barrier Reef Airport (HTI) or to Whitsunday Coast Airport (PPP) on the mainland at Proserpine. Cruise Whitsundays provides regular ferry transfers to Daydream.
Each of the 296 comfortable rooms and suites offer views of the tropical waters or rainforest. All are stylishly furnished and well appointed. Guests are able to indulge in mouth-watering creations in the resorts eight individual food and beverage outlets, including casual, a la carte and buffet restaurants. Enjoy a plethora of land and water based activities (many of which are complimentary) or alternatively relax in the Spa which offers a range of pampering treatments and a holistic approach to wellbeing.

Room Information
Garden Balcony - enjoy views over a sparkling pool, tropical garden or a lush rainforest when you step outside to your balcony or patio area.
Ocean Balcony - delightful views of the tropical surrounds including the picturesque marina or beautiful Mermaids Beach. Located in the Marina or Rainforest wing.
Coral Ocean Balcony - located in the Coral Wing, boasting uninterrupted ocean views and either a balcony or patio area for guests to enjoy the magical Whitsunday view while relaxing outdoors.
Family Rooms - consist of two Garden Balcony, Ocean Balcony, Coral Ocean Balcony rooms with interconnecting door.
Reef Suite - with a sitting area and a balcony overlooking picture-perfect island views the contemporary-styled Reef suites are comfortable and practical for families.
Daydreamer Suite - wake up and look straight out to a stunning ocean view without having to even move out of bed. Located in the Daydreamer Wing overlooking Lovers Cove, these suites feature a spacious ensuite with spa bath.
Panoramic Suite - featuring panoramic views of stunning Mermaid Beach, a private balcony and a spacious open-plan design this is the perfect retreat for an indulgent tropical island getaway.
Ocean Paradise Suite - this exclusive suite exudes pure luxury, boasting ocean views from two balconies, spacious dual shower, spa bath, two flat screen televisions as well as a separate living room and dining area.
Resort Activities
Complimentary - Catamarans, Aussie Cricket, Resort Kayaks, Educational Marine Talks, Gymnasium, Guided Rainforest Walk, Giant Chess, Waterpolo, Tennis (day & night), Archery, Coconut Bowls, Wild Fish Feeding, Badminton, Basketball, Croquet, Beach Volleyball, Scavenger Hunt, Bocce, Board Games, Open Air Cinema, Public Fish Feeding, Live Musical Entertainment nightly, Daily Rejuvenation Spa Tour, Sand Castles, Daily Activities Program, Quoits, Stand-Up Paddle Boards, Putt Around Australia Mini Golf, Shark & Stingray Feeding Show, Trivia Games, Jungle Jumble Children's Playground.
Small Cost Activities - Paddle Board Tours, Bingo, Make-Up Workshops, Trivia, Kayak Adventures, Golf Driving Nets, Super Arcade Sessions, Gold Class Cinema Experience, Trivia, Snorkel/Mask/Fins Hire, SEABOB Jet Experience.
Watersports (charges apply) - Parasailing, Jetski Hire, Jetski Adventures, Sensation Hire Boats, Glass Bottom Boat Fishing, Dayream Discovery Cruise, Waterskiing, Wakeboarding, Banana Boat Rides, Sea Kayak Hire.
For a detailed description of resort activities and prices please click here...
Living Reef
Daydream Island's amazing Living Reef is a must see on the island. Located at the entrance to the resort, it is one of the world's largest man-made living coral reef lagoons and features more than 115 species of marine fish and 80 species of coral. This microcosm of the Great Barrier Reef continues to capture the imagination of tourists young and old; with guests having the opportunity to hand feed resident stingrays, sharks and barramundi.
Activities (charges apply) - Guided Fish Feeding, Stingray Splash (walk amongst baby stingrays and sharks), Reef Ranger Program, Night Tours.
Skippers Kids Club (charges apply)
Catering for children 6 weeks to 12 years, Skippers Club is open daily for morning (8:00am-12:00pm) and afternoon (1:00pm-4:30pm) sessions plus an evening (6.30pm-9.00pm) session in school holidays. Evening babysitting services are also available. For more Skippers Club info - click here to download
0-5 years program - features fun, age appropriate activities including art and craft, construction, imaginative play and plenty more. There is also a fantastic outdoor playground exclusively for Skippers Club guests.
6-12 years program - involves lots of fun outdoor games and activities around the island as well as helping children meet friends their own age. Fun activities include treasure hunts, fish feeding, basketball, coconut bowls, tennis, nature walks, mini golf, group games and much more.
Restaurants & Bars
Mermaids - Daydream's signature a-la-carte restaurant offers a unique culinary experience where guests can feast on the freshest fish of the day caught straight from the sea to your plate. Open daily for lunch 11:30pm - 2:30pm and dinner from 5:30pm on selected evenings.
Waterfalls Restaurant - situated on one of the banks of the Living Reef Lagoon in the main atrium. Open for breakfast daily 6:30am - 10:00am and buffet-style dinner from 5:30pm on selected evenings.
Fishbowl Tavern - casual bistro a-la-carte dining. A great escape for a game of pool, or a night of dancing. Open from 5:30pm on selected evenings.
Boathouse Bakery - the island bakery features a wide range of sandwiches, homemade cakes and pastries plus a selection of hot beverages and a limted beer and wine list. Open daily from 9.30am.
Gilligans Bar & Health Hut - provides a range of snacks including ice creams and smoothies. Open on selected days.
Coffee Bean Cafe - located in the main atrium of the resort is a popular meeting spot where you can relax with a coffee or utilise the free Wi-Fi. Open daily from 8:00am.
Lagoons Bar - just the place to enjoy a pre-dinner drink and featuring an array of live music nightly with guest artists and the popular in-house band - The Bali Boys. Open from 4:30pm daily.
Splashes - enjoy an exotic cocktail at this swim-up pool bar. Snacks, light lunch and tapas menu available from 12:00pm to 3:00pm daily.
Rejuvenation Spa
Located at the northern end of Daydream Island, the Rejuvenation Spa is an award winning facility that combines an extensive array of health and beauty treatments with panoramic views of the Pacific Ocean and pool to pamper and reinvigorate the mind, body and soul. Facilities include 16 individual treatment rooms, Vichy showers, thermal tables, hydrotherapy tubs, steam effusion showers, dual treatment rooms, dual spa baths and private relaxation areas. Also available are a variety of signature stress busting massages including relaxation, therapeutic, aromatherapy, reflexology, reiki, kahuna and Indian head massage.
Tourism Awards
2013 & 2014 Winner: Top Ten Resorts for Families 4th Place as voted by readers of Holidays with Kids Magazine
2012 Finalist: Best Deluxe Accommodation -Tourism Queensland
2012 Finalist: Tourist Attractions - Tourism Queensland
2012 Winner: Best Deluxe Accommodation - Tourism Whitsundays
2012 Winner: Hotel Resort Spa - Customer Service Excellence
2012 Winner: Top 10 Resorts for Familysas voted by readers of Holidays with Kids Magazine
Transfer Information
The ferry departure/arrival times are timed to give the best possible connection with most flights. Priority is given to arriving guests and getting you to your Resort as quickly as possible. There will be a Whitsundays 2 Everywhere Transfer Company representative to meet arriving flights and whisk you away to Daydream Island. Similarly ferry departures and coach connections (for Whitsunday Coast Airport) are operated for most departing flights. Prior to booking your flight, it is important to check with Reservations to ensure your chosen flight is serviced by a connecting ferry.
Prices One Way to / from Daydream Island
operated by Cruise Whitsundays
For travel: 1 Apr 2016 - 31 Mar 2017
Hamilton Island Airport (HTI)
Adult
$52
Child
$52
Whitsunday Coast Airport (PPP)
Adult
$61
Child
$39
Port of Airlie (Airlie Beach)
Adult
$40
Child
$27
Child prices based on 4-14 years inclusive. Infants under 4 years no charge.
Prices correct as at Apr 2015 and are subject to change without notice.
CLOSURE OF DINING & RETAIL OUTLETS
Due to the refurbishment in 2018 on Daydream Island Resort and Spa, there will be a closure of some of the Food & Beverage and retail outlets located on the South End of Daydream Island including Fish Bowl Tavern, Ginger's Hut, Boat House Bakery. These outlets will be closed from the first week in February 2017 until further notice. The resort will have alternatives in place to ensure guests continue to receive an excellent range of dining options.
A greater range of food and beverage at Gilligan's between 10am and 4pm to include sandwiches, wraps, cakes, bakery items, soft drinks, coffee/tea and full bar service including cocktails.

Additionally, food stalls and barbecues will be offered to guests in line with on-island activities and requirements.

The Coffee Bean in the main atrium will have extended hours and menu from 8am to 2pm

Lagoons Bar will open from 3pm.
Our Call Centre is available to help create your next fantastic holiday experience.
Office Hours: 8am-6pm Monday-Thursday and 9am-5pm Friday-Saturday EST